Here is CurrentHow's Briefing™ for the 5th of April, 2017 :-
1. Russia says six 'terrorist' recruiters detained in St. Petersburg :-
Russia's Investigative Committee said Wednesday it had detained six "terrorist" recruiters from Central Asia in Saint Petersburg, but insisted there was no proof yet of a link between them and the suspected metro bomber in the city.
The authorities said that those detained had been recruiting people to join groups including the Islamic State "to carry out terrorist crimes" and join "illegal armed groups" abroad.
Yesterday Russian authorties released the name of the suspected attacker, Akbarjon Djalilov, and claimed he planted a second bomb found at a different station which authorities defused before it could explode. The bomb that exploded on Monday on the St Petersburg metro killed 14 people and injured dozens more.
2. Iraq : Suicide bombers hit Tikrit, 31 killed :-
An attack by suicide bombers in the Iraqi city of Tikrit killed at least 31 people and wounded at least 42, army and police officers said on Wednesday.
A police lieutenant colonel said the attack began when three militants opened fire in central Tikrit on Tuesday night. They later blew themselves up inside homes in the area.
More updates on the way.
3. North Korea fires ballistic missile into Sea of Japan :-
Nuclear-armed North Korea fired a ballistic missile into the Sea of Japan on Wednesday, just ahead of a highly-anticipated China-US summit at which Pyongyang's accelerating atomic weapons programme is set to top the agenda.
South Korea's defence ministry said the missile -– launched days after Pyongyang warned of retaliation if the global community ramps up sanctions — had flown 60 kilometres (about 40 miles).
South Korea's foreign ministry strongly condemned the launch, which it said represented a "threat to peace and stability of the whole world".
The US military said it was a KN-15 medium-range ballistic missile which they had determined posed no threat to America.
"US Pacific Command is fully committed to working closely with our Republic of Korea and Japanese allies to maintain security," the military command in the Indo-Asia-Pacific region said.  US Secretary of State Rex Tillerson confirmed Pyongyang had launched "yet another" ballistic missile.
"The United States has spoken enough about North Korea. We have no further comment," he said in a statement. Japanese Prime Minister Shinzo Abe said the launch was a "grave provocation" that "clearly violates UN Security Council resolutions".  "It is possible that (the North) will take further provocative actions," he added.
The launch will fuel international concerns about the hermit state's weapons programme. Pyongyang is on a quest to develop a long-range missile capable of hitting the US mainland with a nuclear warhead, and has so far staged five nuclear tests, two of them last year.
The latest launch came after President Donald Trump threatened the US was prepared to go it alone in bringing the North to heel if China did not step in.
His comments, in an interview with the Financial Times, were interpreted as an effort to up the pressure on Beijing ahead of a summit on Thursday and Friday.
Trump will host China's President Xi Jinping at his Mar-a-Lago resort in Florida for their first face-to-face meeting this week where the growing tensions on the Korean peninsula are expected to be high on the agenda. The Trump administration has repeatedly insisted that Beijing holds the key to stopping its errant neighbour and is not doing enough to control it.
China is North Korea's sole major diplomatic friend and a key trading partner that supplies the isolated state with much of its hard currency in the face of stringent global sanctions.
But Beijing is wary of putting too much pressure on North Korea for fear of the unpredictable consequences if the state collapses.
North Korea's foreign ministry on Monday assailed Washington for its tough talk and for an ongoing joint military exercise with South Korea and Japan which Pyongyang sees as a dress rehearsal for invasion.
The "reckless actions" are driving the tense situation on the Korean peninsula "to the brink of a war", a ministry spokesman was quoted as saying by the official KCNA news agency. The idea that the US could deprive Pyongyang of its "nuclear deterrent" through sanctions is "the wildest dream", it said.
The hardened US stance followed recent North Korean missile launches that Pyongyang described as practice for an attack on US bases in Japan. In February the North simultaneously fired four ballistic missiles off its east coast, three of which fell provocatively close to Japan.
Last August Pyongyang also successfully test-fired a submarine-launched ballistic missile 500 kilometres towards Japan, far exceeding any previous sub-launched tests, in what the North's leader Kim Jong-Un hailed as the "greatest success".
A nuclear-capable SLBM system would take the North's threat to a new level, allowing deployment far beyond the Korean peninsula and a "second-strike" capability in the event of an attack on its army bases.
Analysts say that while Pyongyang has made faster progress in its SLBM system than originally expected, it is still years away from deployment. Pyongyang is barred under UN resolutions from carrying out ballistic missile launches or nuclear tests.
4. Four Pakistani Army personnel killed in Lahore blast :-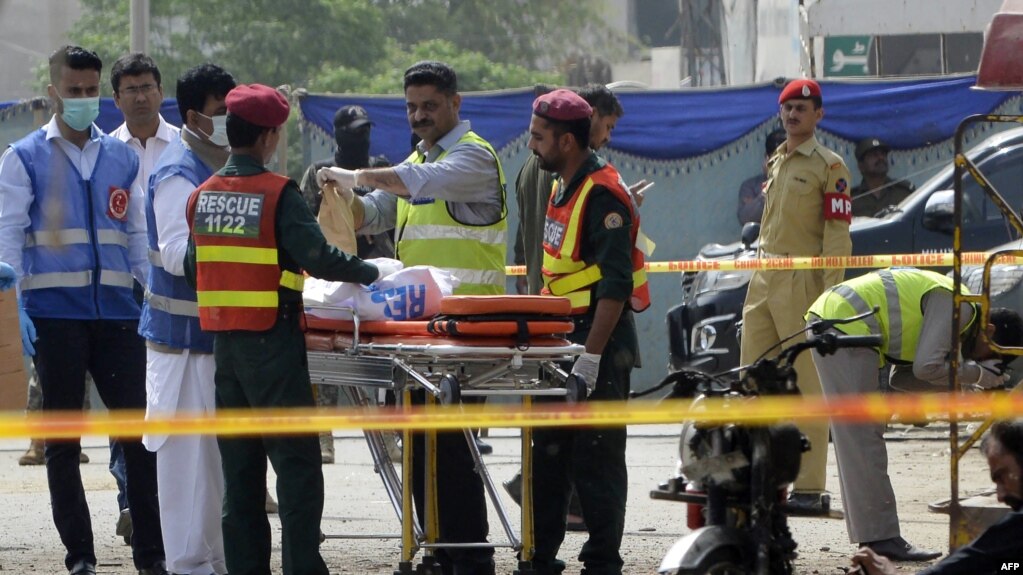 Six people, including four armed forces personnel, lost their lives while on duty after a suicide bomber targeted a census team in Lahore's Bedian Road area on Wednesday morning. At least 19 others were injured in the attack, according to the provincial government.
The injured were shifted to the Combined Military Hospital (CMH) and General Hospital. At least three of the injured were said to be in critical condition.
 Pakistani Chief of Army Staff Gen Qamar Javed Bajwa in a statement said: "The soldiers and civil enumerators who embraced shahadattoday […] were on census duty […] a national obligation. [This] is beyond any doubt a great sacrifice."
He added that "[The] census will be completed at any cost." The explosion was the result of a suicide bomber blowing himself up near an army vehicle, an unnamed police official told reporters.
Prime Minister Nawaz Sharif expressed his condolences on the loss of lives in the blast. The premier paid tribute to the army personnel "who were targeted while performing their duties during the national census". He directed the authorities concerned to extend all requisite assistance to the provincial government.
The incident follows a string of terror episodes across the country and Punjab. The Pakistan Army launched military operation Raddul Fasaad across the country days after a terror attack near the Punjab Assembly in Lahore left at least 13 people dead and 85 others injured.